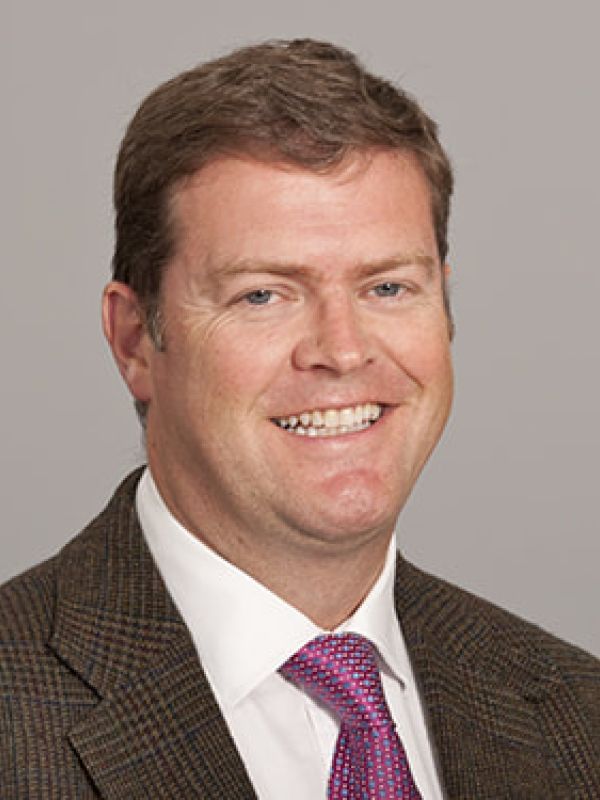 Assoc. Dean, Clinical Srvcs
Chair, Department of Clinical Oral Healthcare
Dr. Des Gallagher serves as associate dean for Clinical Affairs and chair of the Department of Clinical Oral Healthcare.
He previously was an assistant professor and group practice leader (GPL) in the Department of Dental Practice at the Dugoni School. As a GPL, Dr. Gallagher was involved in the daily patient management and competency development of 40+ students as they progress through the clinical component of the D.D.S. program. He was the course director for the Emergency Care course and coordinator for faculty and student experience, and co-directed the Patient Management and Clinical Judgment course with the other GPLs. He was a faculty lecturer for Evidence-Based Dentistry and the lead for the student clinical application. He served on many committees, including Strategic Planning and the Competency Writing Group, and was chair of the Dental Faculty Council. Dr. Gallagher is a presenter for AAL's Center for Advancing Learning and Teaching, a professional development program designed specifically for faculty members at Dugoni School. 
He earned his dental degree from the University of Wales College of Medicine School of Dentistry in 1994 and began his military career in Germany as a resident in a general dentistry and anesthesiology program. During his seven years of active service, he undertook several operational tours, including command and leadership of combined medical/dental assets. After military service, he established a dental office and undertook a two-year diploma in clinical dentistry at Trinity College Dublin School of Dentistry before joining the faculty as a part-time clinical instructor. In 2012, he joined the Dugoni School as a full-time GPL. In 2015, he completed his M.A. in dental education with the University of the Pacific Benerd School of Education and AAL. Dr. Gallagher is a California Dental Board examiner for Portfolio Licensure and is an examiner for the License in Dental Surgery at the Royal College of Surgeons of England.
Dr. Gallagher has been the recipient of an excellence in teaching award from the Associated Student Body. He also has been inducted into Phi Kappa Phi and is a Fellow of the International College of Dentists.