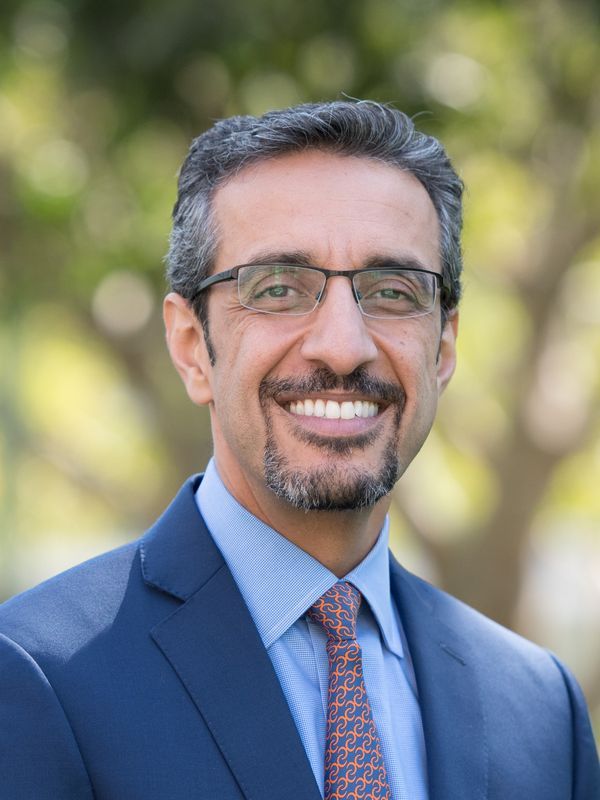 Dean, Arthur A. Dugoni School of Dentistry
DDS, MBA, EdD
As an 18-year-old college freshman, Nader Nadershahi spent plenty of hours at the Arthur A. Dugoni School of Dentistry while his brother, Navid Knight '89, was a dental student. Back then, Nader didn't realize the days he spent cutting preparations in the laboratory and chatting with faculty would influence his future decision to pursue dentistry as a career.
After graduating from Pacific with his DDS degree in 1994 and returning to teach part time in 1995, Nader recalls the positive energy that drew him to the school in the first place.
"There's this feeling you get from the people here that is just really inviting and genuine," Nader says. "At my undergraduate university, nobody really knew who I was or cared how I was doing. It was almost a culture shock coming to Pacific because people wanted to get to know me and cared about my success. That environment is really why I came back to teach."
Nader's various roles at the school have included several faculty positions in all areas of the curriculum, leadership roles as a Group Practice Administrator, Department Chair, Executive Associate Dean and Associate Dean of Academic Affairs. In June 2015 he was named Dean after serving as Interim Dean for nearly a year.
He is determined to continue the humanistic model of education that he experienced as a student. By focusing on mutual respect, high standards, dignity and self-worth, Nader knows he's educating the future leaders in dentistry.
"Humanism is part of our culture here and I think that gives us a competitive advantage," he says. "Our students have the benefit of being exposed to that culture and it really makes a difference in what kind of practitioners they become."
Nader holds a doctorate degree in education from Pacific's Benerd School of Education and has an MBA from Pacific's Eberhardt School of Business. He is a fellow of the International and American College of Dentists, the Academy of Dentistry International and the Pierre Fauchard Academy.
Nader also owned and operated a private general dentistry practice in San Anselmo, California, with his wife, Dr. Niloufar Nadershahi '91, who is also a Pacific alumna. The Nadershahis live in San Rafael, California, with their son, Cole and daughter, Kayla.
Education
DDS 1994; MBA 1999, EdD 2011