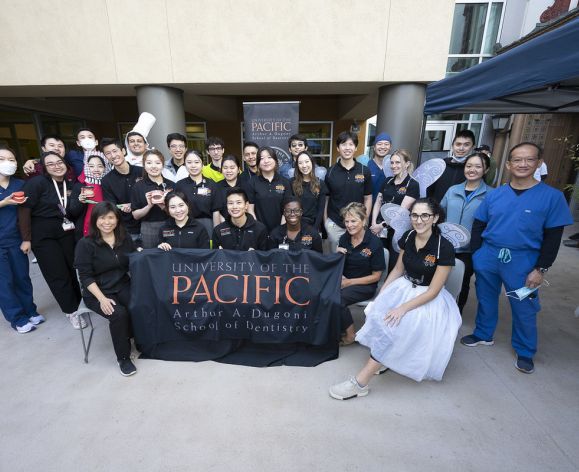 About SCOPE
The Student Community Outreach for Public Education (SCOPE) program is a student-run volunteer community service organization at the dental school.
SCOPE's mission is to develop dental professionals committed to improving the health of all people.
Now celebrating nearly a quarter century of service, the SCOPE program is successful and unique in its student-initiated and student-operated community service design. SCOPE officers encourage our student body to take active roles in sponsoring or participating in activities such as prevention education, screenings and presentations for families, parents, children, senior citizens and other underserved members of the Bay Area community.
Participation in SCOPE helps our students foster a sense of community health awareness and civic pride — a characteristic that will follow them through graduation into private practice. Throughout the year, students, faculty members and staff volunteer their time at numerous health fairs, senior centers, elementary and non-profit agencies, as well as our annual Senior Smiles Health Fair.
Goals
To establish a peer mentoring system at the dental school for students to lead, design and implement outreach projects year after year, including community projects in the community after graduation.
To promote lifelong professionalism and community involvement via teams of students, residents, dental school faculty, alumni and community dentists and hygienists in a wide variety of oral health community service projects.
To provide disease prevention, oral health education, screening and preventive and dental services to underserved members of the San Francisco Bay Area and Central Valley community.