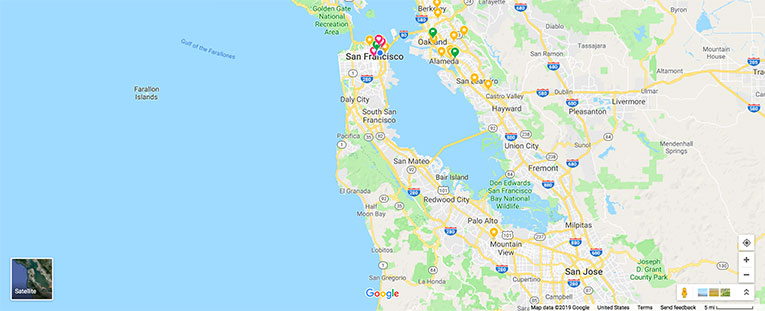 The Arthur A. Dugoni School of Dentistry, located in San Francisco's South of Market (SoMa) neighborhood, is part of University of the Pacific. The San Francisco campus is home to a number of other programs, including the university's audiology program and clinics. The main University campus is in Stockton, California, and its McGeorge School of Law is located in Sacramento near the State Capitol. Each are approximately two hours away by car from the dental school.
Dental students and residents serve a diverse population of patients during clinical rotations at sites in San Francisco, Union City and Stockton, in addition to several extramural sites and outreach programs throughout Northern California.
San Francisco
The Arthur A. Dugoni School of Dentistry's San Francisco campus is located in the SoMa district of downtown San Francisco at the corner of Fifth Street and Minna Street. The facility boasts high-tech classrooms, a state-of-the-art simulation laboratory and modern clinics offering a variety of oral health services to the public.
One of the most vibrant and diverse cities of the West Coast, San Francisco is a thriving center for the arts and culture, as well as a hub for innovation and entrepreneurship. Its natural beauty, cosmopolitan environment, diverse population and quaint neighborhoods make this Bay Area gem a favorite among locals and visitors.
East Bay
Across the Bay Bridge and approximately 45 minutes away by car are the Arthur A. Dugoni School of Dentistry's East Bay clinics. The school operates the Union City Dental Care Center in Union City.