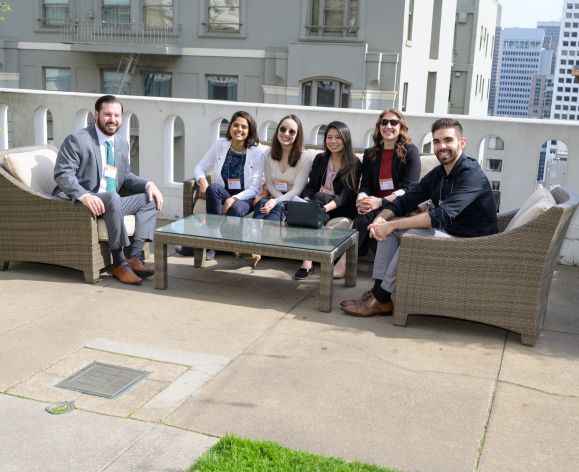 save the date
2022 Alumni Weekend
Join us March 4–5, 2022 at the Fairmont in San Francisco for the 2022 Alumni Weekend and 123rd Annual Meeting! Hotel rooms now available at a special conference rate!
As of January 19, we are still planning an in-person meeting at the Fairmont Hotel on March 4 and 5. The safety of our members and friends are important to us; all attendees will need to check in with their vaccination cards, and masks will be required. (N95s recommended.) Under the SF Department of Health mandate, "MegaEvents" are indoor events with more than 500 people; the two largest lecture rooms at the Fairmont cap at 425, so we should be able to provide the C.E. courses. We are hopeful the latest COVID-19 omicron variant surge will peak and begin to subside by the end of January. A decision will be made and communicated on February 1. Think positive and stay tuned!
Featured Speakers
Dr. Gordon Christensen – Prosthodontics
Ms. Jamie Collins – Intraoral Cameras/Teledentistry
Dr. William Dorfman '83 – Aesthetic Dentistry
Ms. Katrina Klein – Ergonomics
Dr. Justin D. Moody – Implant Dentistry
Dr. J. Martin Palomo – Orthodontics
Dr. Jose-Luis Ruiz – Memetic Dentistry
Dr. Brian B. Toorani '99 – PRF in Oral Surgeries
Dr. Thomas A. Viola – Anesthesiology/Pain Management
Mr. Steve Barrabee – Dental Law
Ms. Eve Cuny – Infection Control
And there's more...
The meeting will also include a panel of experts for advice on accounting, insurance, law, loans, sales and wealth management. A luncheon on Friday (noon-2:00 pm) will include a brief program as well as presentations of Medallion of Distinction Awards to outstanding members of our community. This year's recipients are Drs. Jetson Lee '84/'86 Ortho, Jack Saroyan '62, and Allen Wong '86. The rarely given Arthur A. Dugoni Lifetime Achievement award will be presented to Dr. Frank Brucia '44A. An evening reception (5:00-7:00 pm) will give all attendees a chance to catch up with classmates and colleagues. Classes ending in 2s and 7s, along with several classes ending in 1s and 6s, will hold reunion dinners Friday night and the weekend will be capped off with Saturday night's Legacy Ball, organized by the Development team.
For the Class of 2020
Because their June 2020 graduation was via Zoom, the leadership members of the Class of 2020 have planned an exciting in-person graduation celebration during the Alumni Weekend. On Friday night, March 4, they will gather at the Ritz-Carlton Hotel for a private gala banquet and dance. The Alumni Association assisted in the planning the event and it is hosted by the dental school's administration.