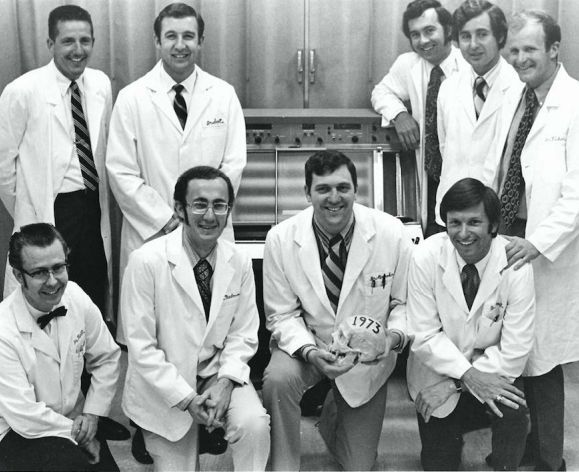 Please join us for Our Anniversary Celebration: 
50 Years of Achievement
Scientific Symposium & Dinner
Saturday, May 6, 2023
Dugoni School & Intercontinental Hotel
2023 will mark the 50th anniversary of our first graduating class (Class of 1973) and we have so much to celebrate with you! 
As we look back over the last half century, it is amazing to see how much has been accomplished.
Our more than 300 alumni have made their mark on the profession and on people's lives. I would like to personally thank all members of our Dugoni School orthodontic family — your ongoing support has made our many success stories possible!
With this anniversary celebration, we hope to bring everyone together to create a greater sense of community and to generate support for the future of our program. We hope you'll join us for this event — and for the next 50 years!
Program Schedule
Symposium at the dental school
•    8:00 am–8:30 am:  Meet & greet/continental breakfast
•    8:45 am–10:15 am:  Clear aligner- Gerald Kim ('00) & Marta Baird ('11)
•    10:30 am–12:00 pm: Digital orthodontics – Cory Costanzo ('04) & Joorok Park ('08)
School tour
TBD
Class reunion
TBD
Evening at the Intercontinental hotel
6:00-7:00 pm: Reception (Mezzanine Level)
7:00-11:00 pm: Dinner (Grand Ballroom)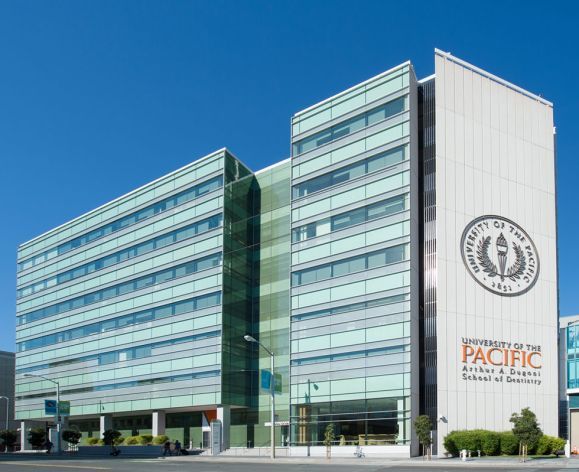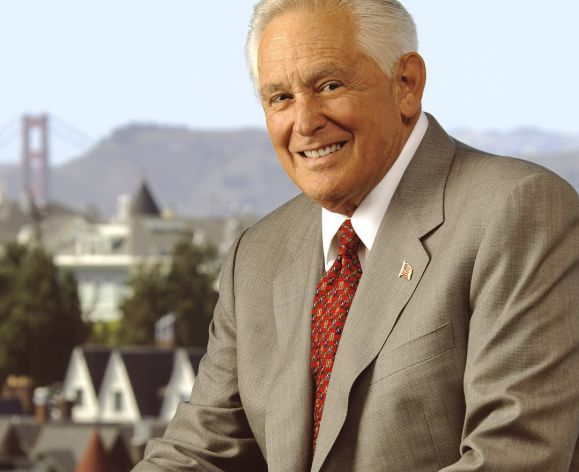 Support Our Students with Scholarships
Your gift can make all the difference for students at the Dugoni School.
Our late Dean Dr. Art Dugoni had a dream of providing scholarships for every student and resident, and so in 2017, he established the Orthodontic Resident Fund, recently renamed in his memory as the Arthur A. Dugoni Orthodontic Endowed Scholarship. Following Art's lead, Dr. Robert Boyd established his own endowed scholarship upon his retirement in 2019.
Thanks to the leadership of these amazing faculty, former chairs and leaders in dentistry, these two funds have raised more than $1.4 million between them to help support ortho residents who would not otherwise be able to be part of our vibrant, diverse Dugoni School community. Please join us in supporting future generations of Dugoni School orthodontists, reducing the burden of their student debt and solidifying our position as the best ortho program in the world. Your gifts are the cornerstone of a strong Dugoni School education. 
Together, we can embark on a great journey toward achieving our — and Art's — dream of providing our exceptional orthodontic residency program tuition-free. 
Our immediate goal is to build up a large enough endowment so we can reduce tuition to less than half the current cost. The members of the Class of 2023 have become the first recipients of the Endowed Scholarship.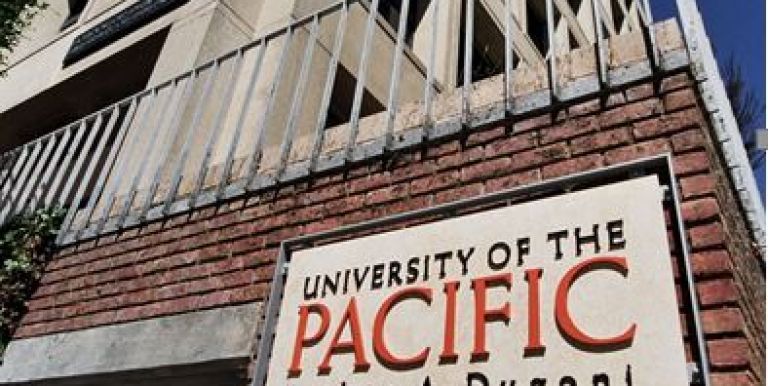 The Beginning
In 1970, fewer than half of the orthodontic departments in the United States offered a graduate degree.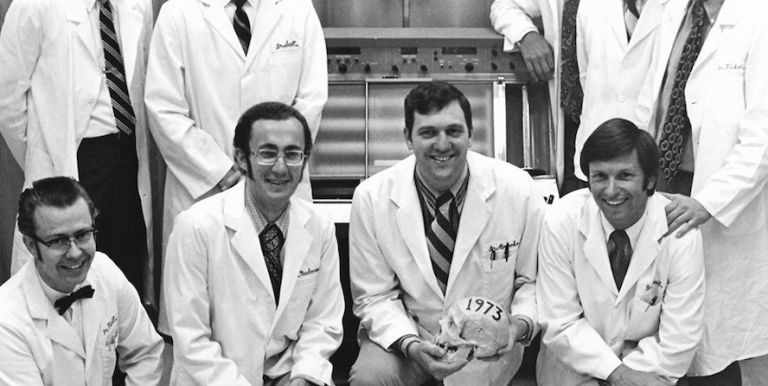 The Beginning
Then Dean Dale Redig asked Dr. Richard Rutter, chairman of the Department of Orthodontics, to assemble a faculty to build a postgraduate training program in Orthodontics.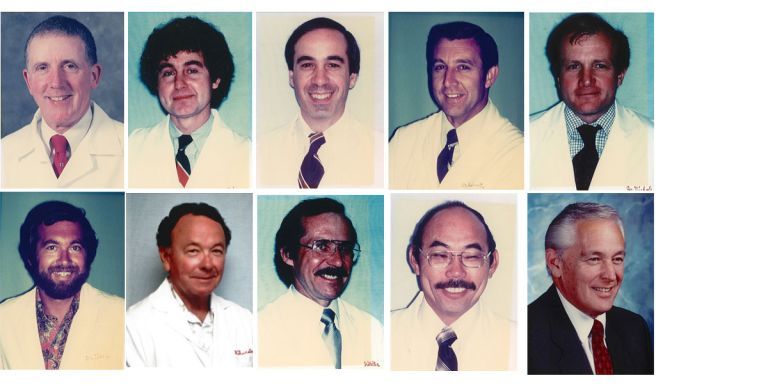 The "Original Ten" Faculty
Dr. Richard Rutter, Columbia (Chair) ; Dr. William Odom, Oregon; Dr. Vincent Lombardi, Harvard; Dr. Harry Scott, Indiana; Dr. Owen Nichols, Oregon; Dr. Robert Tacy, Oregon;Dr. James Thurston, Washington;Dr. Melvin Walters, Washington; Dr. Harry Hatasaka, Washington; Dr. Arthur Dugoni, Washington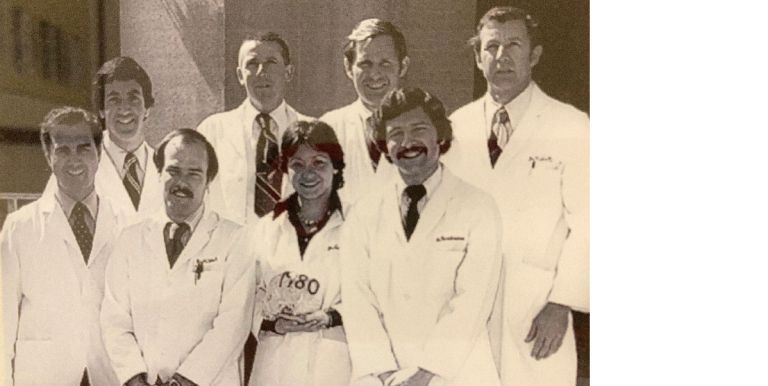 Edging Toward Maturity
Following a site visit in 1976, the program was granted full accreditation. The Class of 1980 included the first woman as well as the first international student (Dr. Maryse Aubert).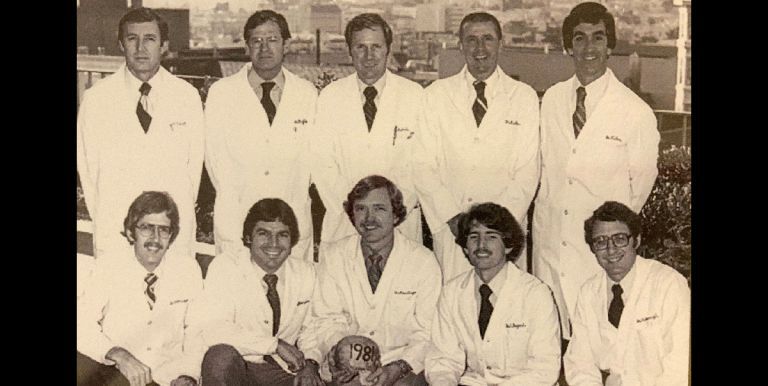 Edging Toward Maturity
The Class of 1981 became the first to have five members and to receive the Master of Sciences in Dentistry degree.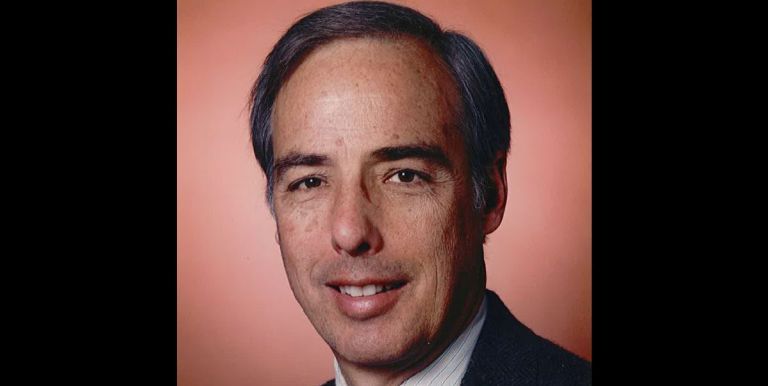 Arrival of Dr. Donald Poulton
In 1982, Dr. Donald Poulton, who served as Division of Orthodontics Chair at the University of California, San Francisco accepted an appointment as the new department chair at the University of the Pacific.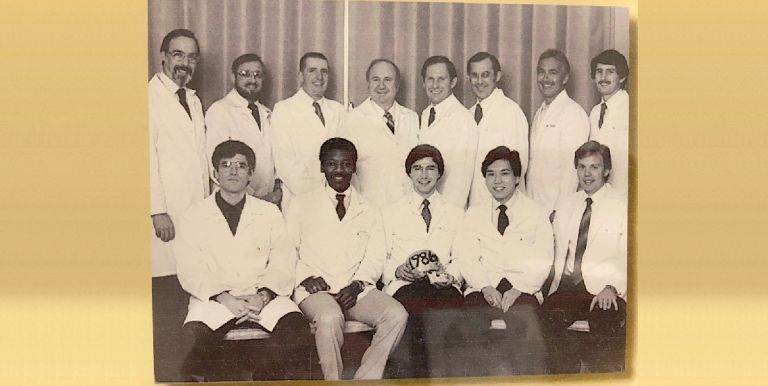 Landmark Years of Program Changes
In 1984, the program grew from a 21-month program to 24 months (Pictured here: the Class of 1986.)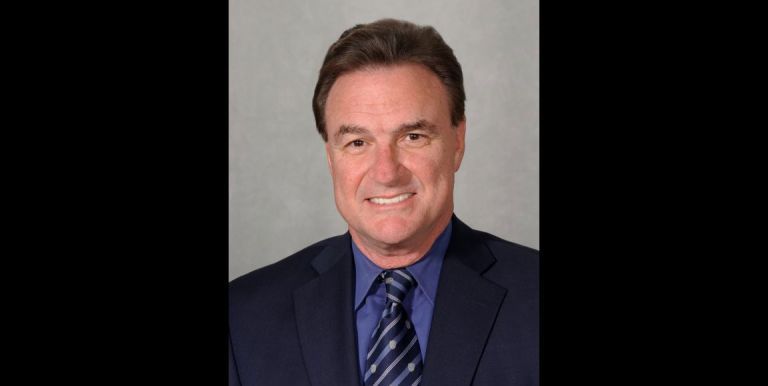 Dr. Robert Boyd
In 1996, Dr. Robert Boyd, professor and chair of the Division of Orthodontics in the Department of Growth and Development at the University of California, San Francisco became the third chairman of the graduate program. Dr. Boyd stepped down in 2017 after 21 years of service.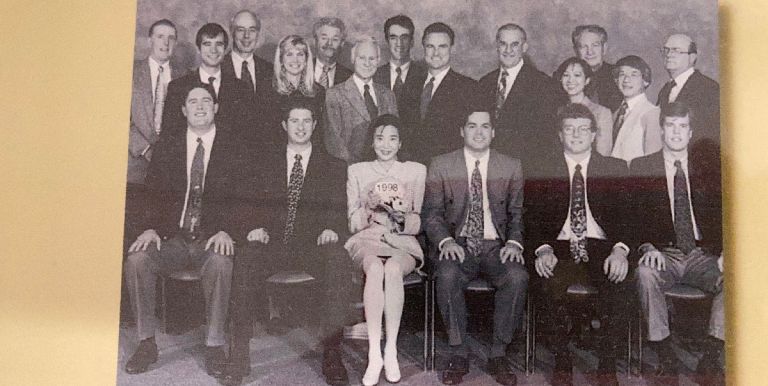 Landmark Years of Program Changes
The inaugural class consisted of 4 students in 1971. Class size increased to 5 in 1979, to 6 in 1996 (Pictured: Class of 1998.)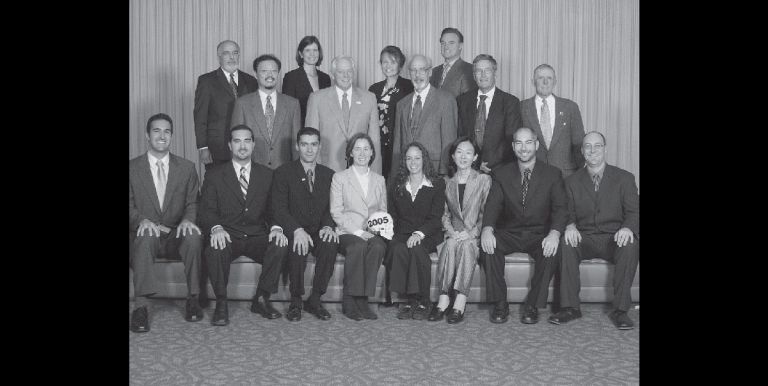 Landmark Years of Program Changes
Class size increased to 8 and program length increased to 27 months in 2003 (Pictured: Class of 2005).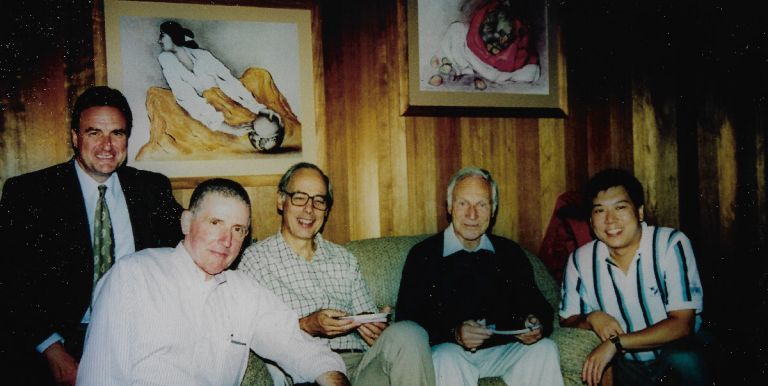 The First Three Chairmen
Drs. Robert Boyd, Richard Rutter, Donald Poulton sits with Drs. Peter Picard and Jetson Lee (circa 1996).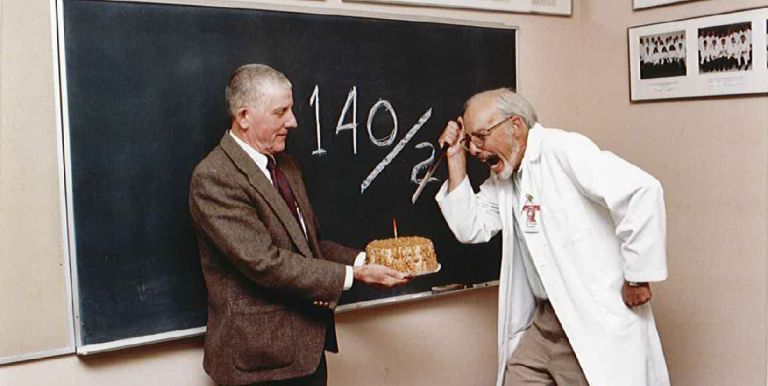 A Shared Special Occasion
Drs. Rutter and Poulton celebrate their shared 70th birthday in 2002.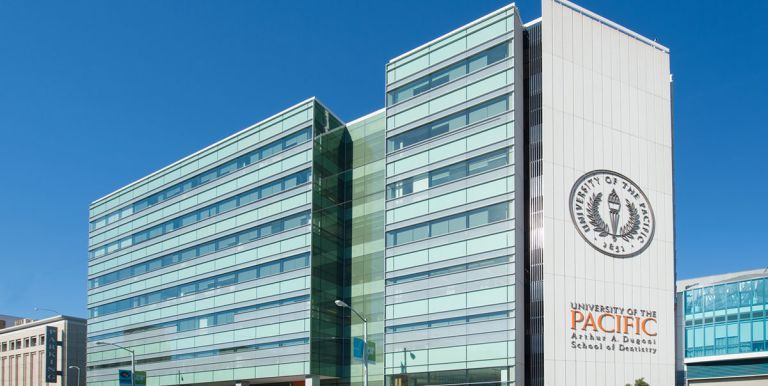 155 Fifth Street, South of Market Area (SOMA)
In 2014, The Dugoni School moved into its new home, a completely rebuilt and modernized campus around the corner from where the original college first began.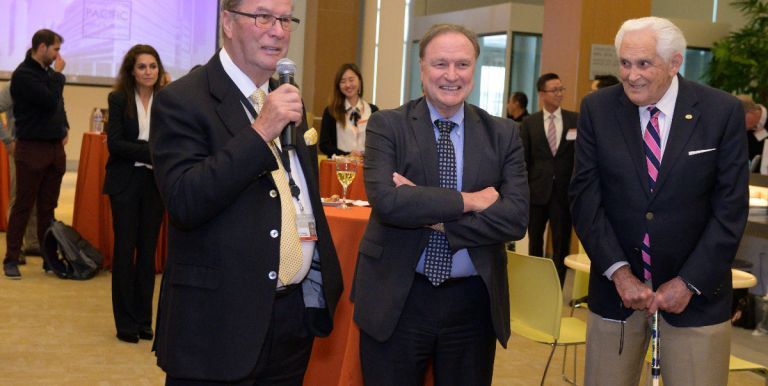 Transitions
Dr. Boyd stepped down as the department chair in 2017 and full-time teaching in 2019.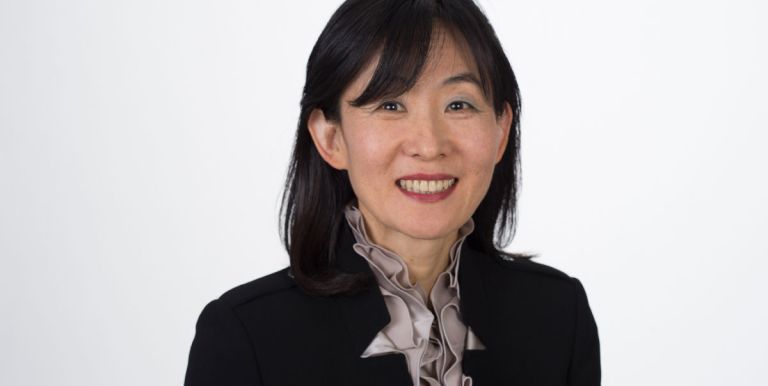 Transitions
In 2019 Dr. Heesoo Oh '05 became not merely the department's new chair, but the first female chair of the graduate program and the first graduate of our program to assume the position of chair.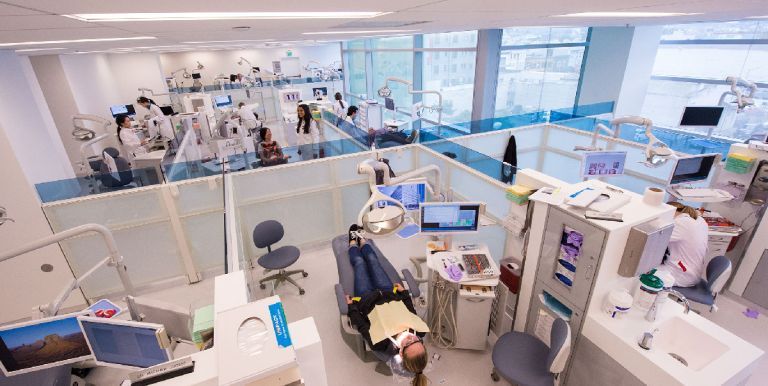 Third Floor
Orthodontic Clinic
The new dental school is absolutely beautiful! The western side of the orthodontic clinic is floor to ceiling glass windows where light pours into the operatory areas and a view of the San Francisco Chronicle building and beyond can be seen. The clinic has 24 clinic chairs, and each semi-private operatory space is streamlined with ergonomics and newly upgraded computer with two monitors.