The Pacific Sleep Clinic is dedicated to helping you improve your breathing. 
Unhealthy sleep and sleep deprivation are linked to heart disease, depression, obesity and lower life expectancy. Seventy million people suffer from chronic, severe sleep disorders in the United States alone. These include difficulties sleeping at night, problems with excessive daytime sleepiness, or other medical problems that may occur or be exacerbated by problems with sleep.
We work to improve coordination among the various specialties involved in treating patients with sleep disorders including obstructive sleep apnea, pediatric sleep, parasomnias, snoring, and other sleep issues.   
Our clinic collaborates with the Stanford Sleep Medicine Center, an internationally renowned sleep center recognized for outstanding patient care and innovative sleep medicine research.
Sleep Clinic Process
American Board of Dental Sleep Medicine (ABDSM)-certified faculty who are experts in dental sleep medicine will provide comprehensive exam and treatment.
We work with physicians who can conduct sleep studies for our patients. Based on the results of the sleep study, the physician will make a recommendation for an oral sleep appliance.
At the Pacific Sleep Clinic, our patients undergo 3D X-rays and intraoral scans from which their oral sleep appliances are custom designed and fabricated.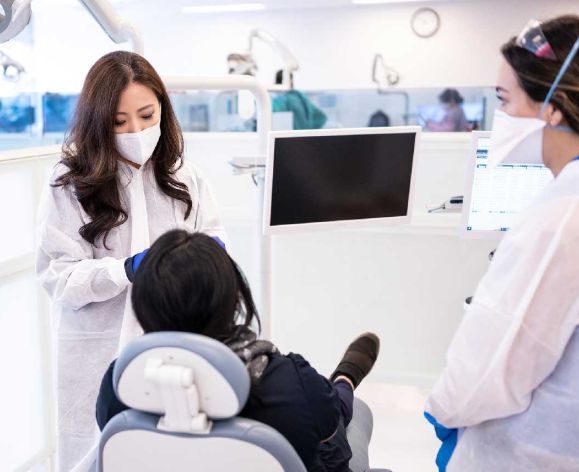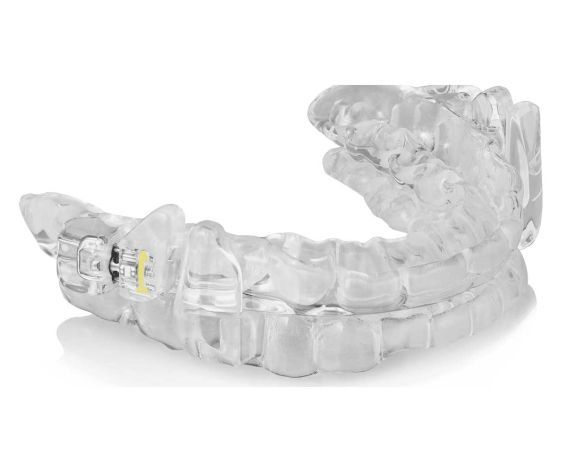 Service Types Provided
Oral appliance therapy (mandibular advancement devices) for mild-moderate OSA (Obstructive Sleep Apnea) for adult patients
Orthodontic growth modification for adolescent patients with OSA
Rapid palatal expansion (RPE), mini-screw assisted rapid palatal expansion (MARPE)
Surgical orthodontics (DOME: distraction osteogenesis maxillary expansion) in collaboration with sleep surgeons
Sleep surgery consult referral to sleep surgeons for MMA or hypoglossal nerve stimulator (Inspire)
Payment
Most medical plans offer coverage for sleep treatment, and we will work with your insurance providers and help you access your medical insurance benefits. We also accept Medicare and Kaiser health insurance plans.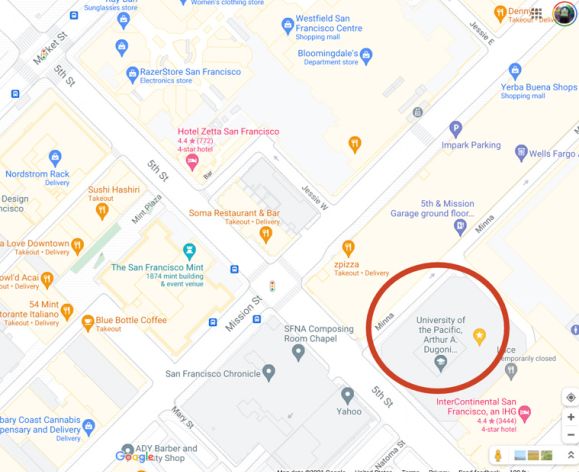 Location and Hours
Pacific Sleep Clinic / Redmond Family Orthodontic Clinic
University of the Pacific, Arthur A. Dugoni School of Dentistry
155 Fifth Street, Third Floor
San Francisco, CA 94103
415.929.6555
Monday – Friday 8:00 am -6:00 pm
Open year-round; closed during holidays. 
Assistant Professor, Department of Orthodontics
University of the Pacific, Arthur A. Dugoni School of Dentistry
Adjunct Assistant Professor, Division of Sleep Medicine
Department of Psychiatry and Behavioral Science
 Stanford University
Associate Professor, Department of Otolaryngology
and by courtesy Division of Plastic & Reconstructive Surgery
Director, Sleep Surgery Fellowship 
School of Medicine Stanford University
Chief of Service, Oral and Maxillofacial Surgery
Stanford Healthcare